WELCOME TO STRONGER, LONGER HAIR
All the info you need is here in this Toolkit. Start learning and get growing today.
The natural hair supplement that takes stressed hair and turns it into your best hair. Your hair is your crown. So, you need to keep it healthy and happy. Revel in your hair with Hair Revival. Natural, clean, and vegan.
We crafted this ideal daily holistic approach to hair wellbeing through non-toxic, 100% vegan ingredients that leave hair smooth and nourished.
Celebrate Your Hair. Revel in Healthy Results.
Inspired by nature, Hair Revival uses plant extracts, vitamins, and minerals, as well as amino acids for optimum nourishment to support healthy hair growth. Featuring a patented banana flower extract that protects from external stressors, Hair Revival can also improve hair thickness, texture, and shine.

NON-GMO

DAIRY-FREE

SOY-FREE

GLUTEN-FREE

Vegan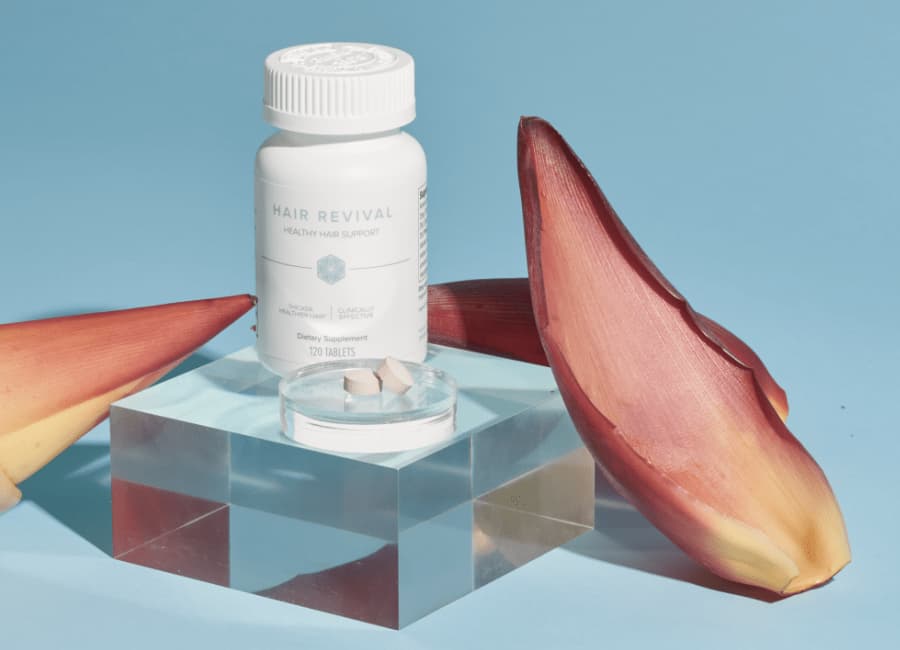 Third-Party Clinically Tested with Remarkable Results
After two months:
* Individual results may vary. Statistics are based on a third-party study with 8 participants who consumed 1000mg of Happy Angel® Banana stamens extract every day for 8 weeks.​
Award-Winning. Natural. Sought After.
Ingredients make all the difference.
Banana Flower Extract
A patented natural phyto-active that helps support thicker, stronger, healthier hair.*
Biotin
Helps supports healthy keratin infrastructure that is linked to smooth hair texture.*
Niacin
Vitamin B that supports hair health through optimized energy production.
Horsetail Extract
An herb containing selenium and cysteine that is known to help improve hair thickness and shine*
Amla (Phyllanthus Emblica)
This herb is also known as Indian gooseberry and is known to support hair health.*
* This statement has not been evaluated by the Food and Drug Administration. This product is not intended to diagnose, treat, cure, or prevent any disease.
Your Package Options
Hair Grow & Glow Collection
Price: $310.00
Welcome to the ultimate in hair and skin wellbeing. This duo of luxe products will have you glowing from your head to your toes. Featuring Collagen Elixir™ for a boost from the inside out, and Hair Revival for the crowning touch of healthy, luxurious hair.*
Have this collection delivered to your doorstep monthly for the ultimate in self-care. Indulge in your glow today.
Collection includes:
2 bottles of Hair Revival
6 boxes of Collagen Elixir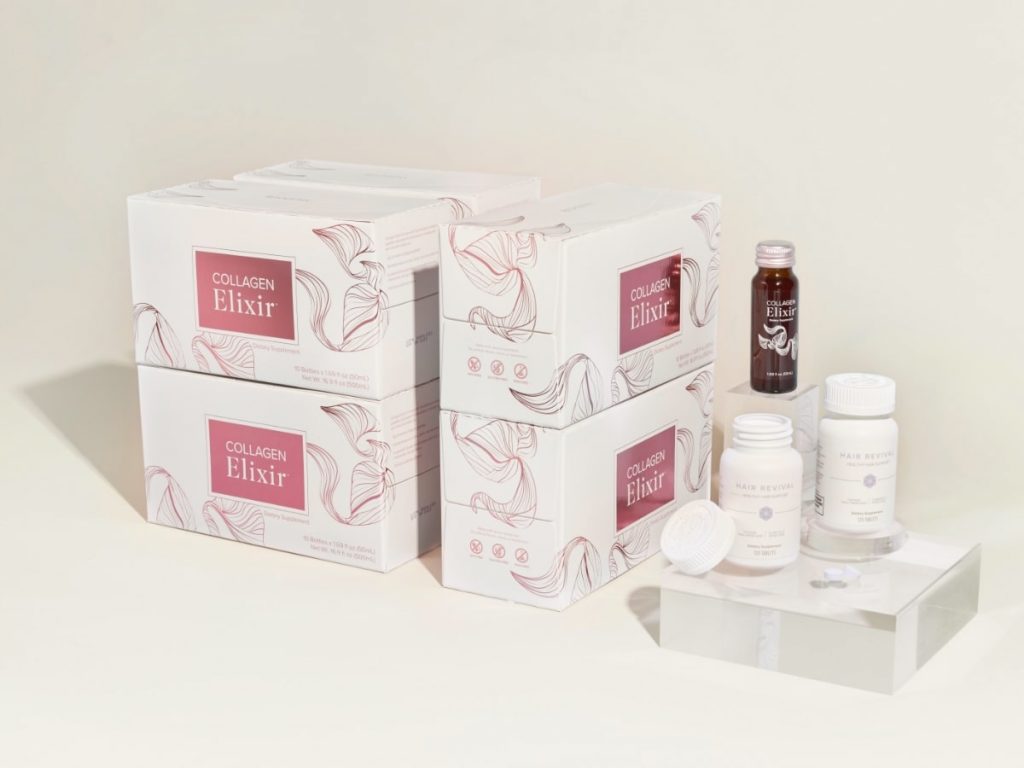 Hair Revival Collection
Price: $93.00
Enjoy amazing hair support with our Hair Revival Collection. This collection features two bottles of Hair Revival to support your hair's ability to maintain strength and combat daily living. Say hello to texture, thickness, and shine.*
Helps stimulate hair growth for longer, more alluring hair.*
Supports visibly thicker, stronger hair with Banana Flower Extract.**
Nourishes and soothes the scalp to support follicle health.*
Supports healthy hair from the inside out with gorgeous ingredients like biotin, niacin, amino acids, horsetail herb extract, and more.*
Features:
2 bottles of Hair Revival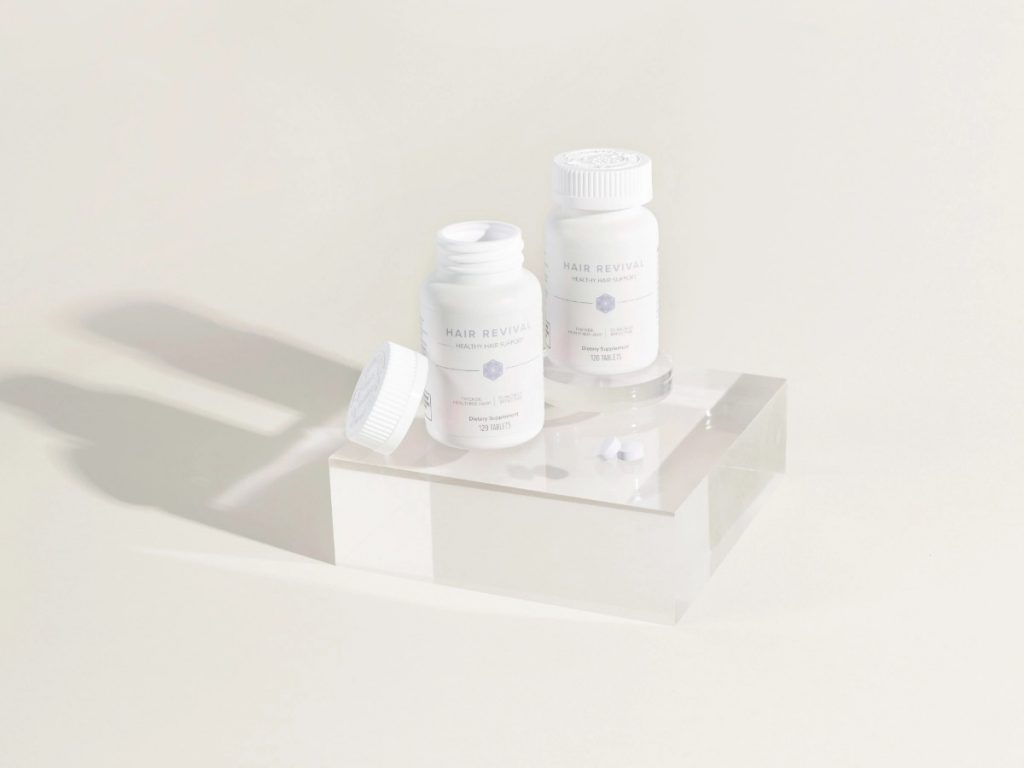 Hair & Skin Collection
Price: $172.00
Grow and shine effortlessly from the inside-out
Our Hair and Skin Collection was curated for easy beauty. Hair Revival helps boost growth and texture, and Collagen Elixir™ gives your skin a boost from the inside out.* It's beauty made effortless. Glow, grow, and enjoy being you.
Collection includes:
1 bottle of Hair Revival
3 boxes of Collagen Elixir (30 count)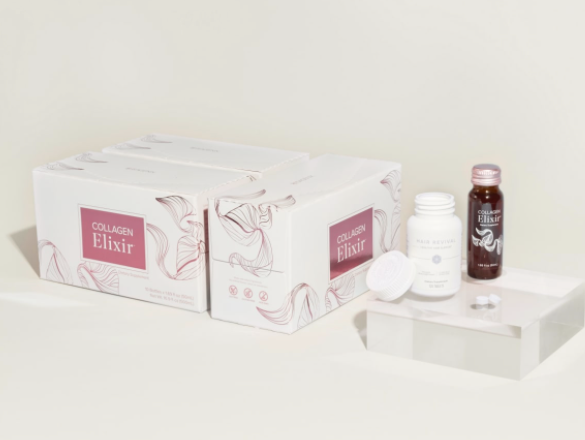 CLEAN, CLINICALLY TESTED, AND VEGAN